We live in dynamic times, the world is becoming more and more digital. The pandemic has  accelerated this process. Teaching and remote work have become normal. Stationary stores are strongly competing with e-commerce. A considerable challenge awaits them to meet big requirements of a modern customer.
Modern customer
What is a modern client like? What characterizes and what is important to him? These questions increasingly keep salespeople awake at night. First of all, to meet the expectations of the modern sales market, it is crucial to provide the highest quality customer service. According to a report by Dimensional Research, as many as 66% of buyers after a good contact with the brand will make further purchases from the same seller. Therefore, it is worth taking care of the highest level of service. To attract new customers to stationary stores, truisms such as: high-quality, interesting products, low prices or professional service are no longer enough. A modern customer likes technological innovations, discovering the secrets of the digital world while shopping is a treat for him!
Store of the future
The storefront is one of the most important points of the store. We can attract the interest of new potential customers with the unusual appearance of the window store. Currently, LED screens are used very often. They present advertising campaigns or inform about current promotions or discounts. Everyone knows that, so sellers need to be one step ahead. ZARA offers its customers a great experience on the streets of New York! Inditex decided to focus on 3D technology – the augmented reality storefront looks like a huge aquarium filled with a whirlpool of colorful balls. The whole thing rustles like a real sea. The shop window was designed by ShaneF Motion Design – a studio known for this type of projects. 3D animation gained a spectacular  popularity on social medi. This is a great idea for advertising!
Stationary stores, to a large extent, begin to introduce automated customer service. Self-service checkouts or touch screens are increasingly appearing to facilitate product selection and search. The use of CHAT BOTS becomes common. Sephora has created a "virtual make-up artist" that allows you to test different make-up versions.
In the fitting room we will also meet a lot of technological innovations, incl. intelligent mirrors that can recognize our emotions with the help of special sensors. The RFID system identifies the clothes we measure. Thanks to special labels, finding the required size or color of the item we choose takes only a moment.
Maintenance-free store
Designed by atelier archi @ mosphere, 'uncommon store' in Seoul, South Korea is shaping the future of retail. Aimed at younger consumers who are familiar with maintenance-free payment systems from an early age, the store does not employ any staff and does not accept cards or cash, only QR codes. To enter, buyers scan the QR code at the entrance barrier. Atelier archi@mosphere has integrated technological innovations with the space. Their goal was to achieve a retro-futuristic aesthetic.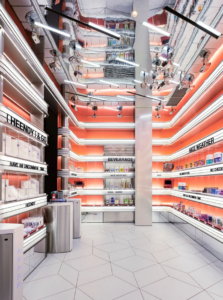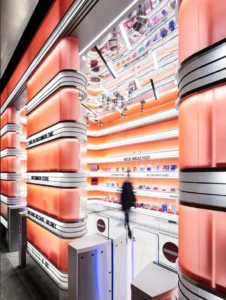 Photo: deezen.com
Shops like works of art
In addition to the technological trend, we are also seeing a shift towards art. Luxury brands can afford unusual locations for their shops. Apple Tower Theater is a new Apple Store designed by British studio Foster + Partners in an abandoned 1920s cinema in downtown Los Angeles. The Tower Theater was Los Angeles' first theater, but has been closed since 1988. Apple and Foster + Partners undertook the renovation in collaboration with the City of Los Angeles and conservation experts. Inside we can find a sumptuous entrance hall designed in the style of Charles Garnier's Paris Opera, complete with bronze handrails and marble columns, has been restored to its former glory. There is a red carpet on the stairs. All this makes the Apple store look more like a theater than a retail outlet. This is a great presentation for the brand, the place attracts people who only want to see the restored place and maybe buy something at the same time.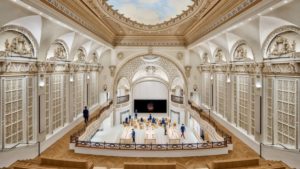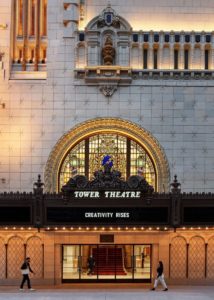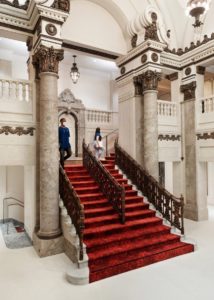 Photo: deezen.com
The two trends compete with each other, but the main goal of retailer is to stand out. We have an almost unlimited choice of material goods on the market. Companies compete for the consumer's attention. Customers have become more and more demanding, it is they who dictate the terms. A well-designed store is the key to increasing sales. Many years of experience allows us to implement effective shopfitting solutions. We invite brands that want to prepare effective and modern commercial space.