Acquiring new customers for stationary stores is a series of activities that a company must undertake to attract new customers. Nowadays, a good product is not enough. Customers buy in their favourite place because they like and trust a given seller. Market research of sensory marketing shows that we buy with our whole being – with our senses and feelings. The same t-shirt at one point of sale may be less attractive due to its poor lighting, incorrect layout of the store space or negative atmosphere inside. We know how important the characteristics of a stationary store are, but how to promote our brand outside the store?
The promotional stand works like a series of good social media campaigns!
Every seller knows that effective marketing is the key to increase sales. One of such activities may be participation in trade fairs. Participation is not enough, first of all, you need to properly prepare the presentation of your products. For this purpose, it is worth reaching for the help of professionals who know how to plan such a stand to interest passers-by.
Ergo Store, apart from designing commercial spaces, retail furniture manufacturing and assembly, produces also promotional stands. We had the pleasure to work with the More & More brand during one of the most important fashion fairs in Europe. A clothing company from Germany is a permanent exhibitor at the Berlin event, and Ergo Store is responsible for the production of its stand every year.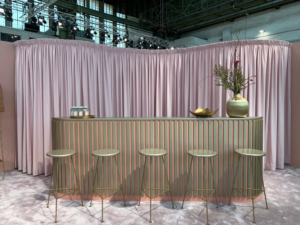 What is worth remembering while preparing stands for trade fairs?
The exhibition stand should be designed to attract as many potential customers as possible. It is supposed to be intriguing, interesting, but most of all effective. There are also several practical rules regarding the design of exhibition stands. Namely:
Keep distance – thanks to a well-separated space, a client talking to a company representative gains a sense of privacy.
Appropriate arrangement and furnishings – inside you should put a table, chairs, stands with advertising materials, and if the space allows it, you can think about lounge sofas or fitting rooms.
Provide convenient access to yourself – peninsula, corner or row fair stands may be an ideal solution.
Small back room – here you can store any accessories that should not accumulate in the open space for visitors.
Modern lighting – proper lighting of the exhibition stand is necessary for the comfort of visitors and for the illumination of our banners or products.
Free gadgets – an advertising gift is something that will stay with the client for longer. Therefore, it is worth equipping yourself with free advertising gadgets, preferably marked with a logo.
Where to promote your company?
During the pandemic, the trade fair had to stop its activities. Fortunately, we can now come back to this type of event. More and more places start to re-prepare such events. People are eager to go out, we are no longer satisfied with buying online. That is why it is a good time to show yourself stationary, it is the time to meet clients realistically. Where can we become an exhibitor? We can test our strength at international trade fairs or in locally organized events. If you do not have the opportunity to participate in this type of exhibition in the area, we recommend that you take an interest in smaller business events where you can also put up your promotional stand.
Brand promotion in a pop-up store
Another "advertising stand" can be the so-called pop-up store. It's the idea of creating unique stores that only run for a specific period of time. This type of action has a long tradition in Western Europe. In Poland, the pop-up store is a relatively new phenomenon, but with great sales potential. How to prepare such a pop-up? It is not easy, it takes a lot of creativity to pay for a temporary store. That is why it is worth commissioning the project to companies whose many years of experience allow them to fulfill our vision of a perfect pop-up.
We have almost unlimited possibilities when designing advertising stands or pop-up stores. However, this is not a task for everyone, you need to be very creative and have the appropriate technological resources and technical skills.
By constantly participating in the creation of stationary stores, in Ergo Store we know our clients' requirements and their interior concepts. Thanks to this, we can build a coherent brand image at fashion fairs. Advertising stands should fit the aesthetics of a given retailer as much as possible.
We invite companies interested in preparing stands for fair events to cooperate with us. Just write us or call.