The proper display of products in a storefront can significantly increase their sales. The art of display is a well-thought-out process from A to Z, based on market research regarding consumer behavior. A storefront is an invitation to the interior of the store, designed in accordance with the principles of visual merchandising will help attract new customers.
What mistakes should you avoid in display of products in a storefront?
The most important rule is: "Storefront floor isn't a good choice to put products". At home, clothes are in the closet, they are not on the floor, and if so, then our mind turned it off for the mess. This lowers the subjective value of the product. We subconsciously reduce its scope and do not perceive it as "high-end". Goods on the floor are out of sight, clients easily can miss them. When designing a shop window, it is worth adopting the "less is more" as the guiding principle. Too many products on every conceivable level will give the impression of disarray. Placing as many goods as possible at eye level of the average person is more important than arranging the floor. The floor is not a point that will attract the attention of speeding passers-by.
If we want the floor of the shop window to attract attention, we can use display cubes, chests, tables, pedestals, boxes or special furniture designed for displaying goods. Such simple steps mean that a given store cares about the product that is to be in the hands of a potential customer.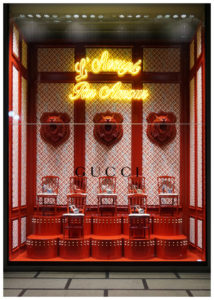 Photo: Gucci
How to display small items in the store?
Small products are the most difficult items to display. You have to be flexible so that they do not go unnoticed. Here are some tips:
Place the small goods at eye level – the assumed height is from 70 to 180 cm. Suitable display furniture, pedestals, etc. can be used for this purpose.
Narrowing the field of view will focus attention on a given thing – create a "frame" that will attract attention to a given product. On the site, it can be created with appropriate elements: masking frames, graphics, furniture, cubature. Thanks to this you will reduce too large window.
Product multiplication – grouping similar products increases their volume and also their visibility.
The display furniture is a friend of small products – all kinds of display tools give the information "I'm not lying here by accident". This draws the customer's interest in the thing and raises the question "why is it here?"
Provide adequate lighting – headlamps with adjustable direction may be necessary here. Lighting brings out products.
Appropriate storefront design is an art that will either increase our sales our lower it. Experienced companies can tell you a lot and help you. We invite brands that need help in this area to cooperate.