A good salesperson knows that a store has to offer more than just products for sale. We sell our brand, the stationary store is the meeting with the customer. The commercial space is a place where important consumer decisions are made. Positive atmosphere can help bring big profits for the store.
A boutique in the past and today
There is no place like home! – it is a saying that probably everyone heard. The atmosphere that accompanies us at home is something unique, difficult to recreate elsewhere.
Luxury boutiques have made an effort to create a substitute for a home inside the retail space. By definition, they are small stationary stores with fashionable, luxurious clothing or accessories. Often selling products of one brand and, in particular, one designer. The target customers of this type of stores are wealthier people who are willing to pay high prices for access to luxury products. Typically, boutiques are located in commercial and dynamic districts of large cities, often in tourist areas.
The customer should feel like an important guest here, almost like a friend whom sellers welcome with open arms. Make him feel at home – this is an important task for a staff in a boutique. This type of place should resemble a shop as little as possible. The number of clothes on display is limited, there must be no mess or excess. The products are arranged in color according to the established order. The boutique resembles an exclusive wardrobe where order reigns. Designer sofas and coffee tables are a must-have. The light plays a very important role as it creates a homely atmosphere. Furniture found in boutiques comes from residential departments.
Toteme Boutique located in Stockholm is a two-story place that could easily be mistaken for the interior of a single-family house. A lot of light wood is used, which is typical of a residential style. Both the floors and walls are covered with wood. The furniture is finished with beige marble. The form of the display tables refers to kitchen islands. The spiral staircase in the middle of the store attracts the most attention. In the boutique, we can relax on lounge armchairs and sofas. An additional home atmosphere is created by carpets and accessories, such as books, flowers, figurines. Inside, we can also find floor lamps characteristic for bedrooms or living rooms.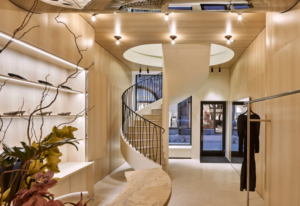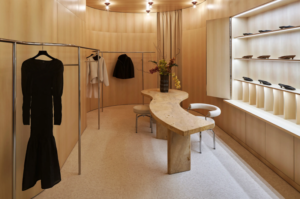 Photo: vouge.com
Modern boutique – concept store
Boutiques are the basis for the creation of concept stores. These are contemporary interpretations of boutiques. The assortment is selected according to the standards set by the owner, in the style chosen by him. The final image of a concept store obviously depends on the business profile of the owner. They are created mainly in large urban agglomerations, their offer is aimed primarily at people looking for new, individual products that are difficult to find in a typical chain store.
Concept stores promote the idea of ​​"slow shopping" – calm and without remorse. Buying is supposed to be like fun, which in turn should make us want to come back for more. They are to a large extent centers of the cultural life of a given area. For this reason, they gain an even more homey character. Their offer often includes interior design elements, such as sofas, chairs, tables, etc. They play a role of display products that are often used by customers. The assortment of concept stores is wide, but focused on products that we usually find at home, e.g. furniture, clothes, books, unusual groceries, coffee, haberdashery, ceramics, cosmetics, etc.
The concept store of Banema Studio is an object of this type. The interior of the concept store, designed by architect Pedro Campos Costa, is a visual continuation of the Banema Lab, a creative space initiated in 2016, encouraging architects, interior designers and all lovers of tasteful design to exchange experiences and inspirations. It covers an area of ​​300 sq m, and is distinguished by an installation made of green melamine and acrylic stone. The decor also includes a carefully composed collection of books and accessories from well-known interior design brands. Presented on unusual, decorative shelves, it resembles a museum rather than a shop display. Stylish lighting and modern furniture create the atmosphere of the living room, encouraging to spend time together and relax together with other design and beautiful interiors loversof. In addition to selling products, Banema Studio also organizes numerous workshops, exhibitions, concerts and events in cooperation with other brands.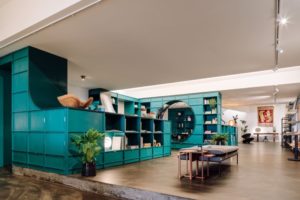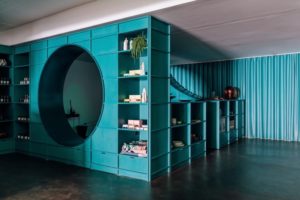 Photo: dezeen.com
Concept stores were born out of human needs, when we go shopping, we want to have a good time. The homely atmosphere inside the store increases the liking of its visitors to the products offered there. When designing a shop that resembles a house, you need to have access to various data on consumer behavior, sales psychology, visual merchandising, etc. The Ergo Store team can help you with the production of boutique and concept stores. Many years of experience allowed us to gather the necessary design knowledge. We invite brands to cooperate. Write us or call: https://ergo-store.com/contact/